Our online portal to manage your multi network IoT SIM cards.
Save time and money with simplified SIM card management. You are never in contract or committed to data pools because our pricing is ultra-flexible.
KeyOnline lets you turn SIM cards on, off and back on instantly. View live online status and data consumption statistics. You can even steer mobile networks with the network steerer. Along with managing your KeySecure services. Complete control at the click of a button. With simplicity at its heart KeyOnline makes managing your data SIM cards a dream.
Dashboard View
Your dashboard gives you a birds eye view of your SIM cards, online status, the mobile network it is connected to, plan, KeySecure services and data consumption in the month. In this example there are 3 SIM cards:
89462038043023190574 is offline. Plan is set to UK4 which means it will connect to any of the 4 UK mobile networks. The service is KeySIM which means it is open internet with no KeySecure service. Data consumption in the month is 0.43MB. We have labeled this SIM WiFi Dongle 1.
89462038066007433041 is online and connected to Vodafone. Plan is set to Vodafone Only which means it will only connect to Vodafone. Service is KeySIM which means it is open internet with no KeySecure service. Data consumption in the month to date is 94.62MB. We have labeled this SIM IoT Router 1.
89462038005001868695 is in stock and not needed so it has been deactivated by clicking on the arrow button and confirming the deactivation request. If it is needed again you would click the red cross, confirm reactivation and it would be activated instantly. You would only pay for the days used as per our pricing. We have labeled this SIM Stock SIM.
All SIM cards are allocated to Group A. You can create as many groups as you like and allocate SIM cards to them.

You can see a SIM's online status and which network it is connected to. We know from our modem network selection article the optimum network may not be selected so we provide you with a tool to instantly switch mobile networks by clicking on the 3 lines next to the SIM and following the steps described in our network steerer article.
If you click on a SIM you are presented with some options including the ability to change the KeySecure service instantly, this is an important tool because you can switch the service attached to your IoT SIM as often as you wish.

Data Consumption History
Data Consumption history is displayed in clear graphs in megabytes.

By Month: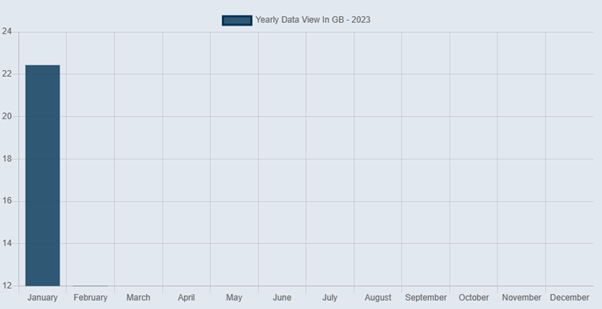 By Day: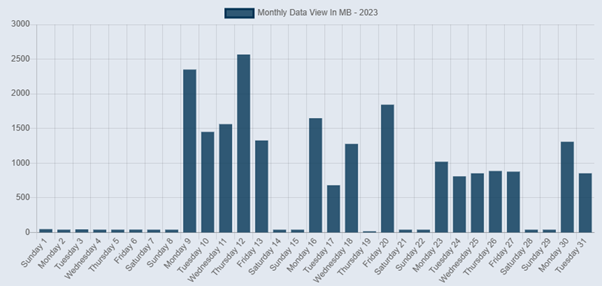 By Hour: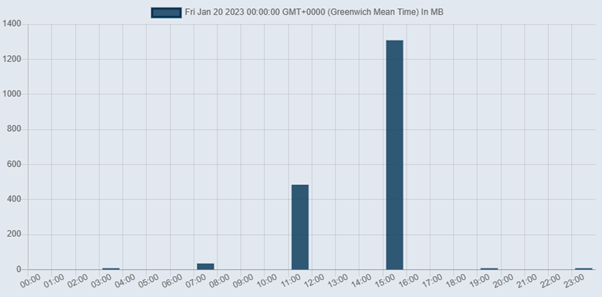 You can send and receive SMS messages and enable UK voice (IoT use only) on KeyOnline - see SMS & Voice article for more information.