Get the best from your multi network IoT SIM by remotely selecting mobile network.
Standard modems are not optimized for multi network IoT SIM card's so we optimized the SIM. We have explained how Modem Network Selection can adversely affect your multi network SIM in a previous article.
We have the perfect answer with our world first network steerer. With a click of a button you can select which mobile network you would like your SIM to connect to and in the UK you can choose from Vodafone, 02, EE or Three. Simply click the 3 lines next to the SIM you want to steer and select change plan, UK and then select which network you would like to connect to.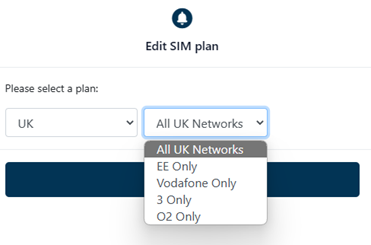 If your SIM is deployed outside of the UK you can steer networks globally using the roaming groups published on our global roaming list. Groups A, B, C and D map to certain networks in each country we cover, simply select global instead of UK when you change plan and follow the steps.
After successfully network steering there may be a period of downtime as the modem disconnects from one network and connects to another. You can often reduce the period of downtime by remotely rebooting a router by SMS or if you have set up automatic reboots in the router settings. Automatic reboot being the preferred option.